Deze evenement zijn geslaagd.
Halloweencantus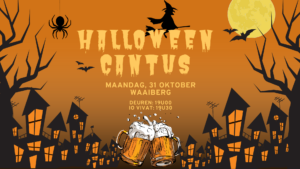 "Halloween, is mijn favoriete feest"
Of wat dacht je van cantus? Jaja, het is weer zover! Onze geliefde Halloween cantus staat voor de deur dus zoek maar snel jouw mooiste outfit bij elkaar en kom mee met ons zingen, drinken en griezelen.
[PRAKTISCH]
Wanneer: Maandag 31/10
Waar: De Waaiberg
Deuren: 19u
Io Vivat: 19u30
HALLOWEEN DRESSCODE
!BRING YOUR OWN CUP!
(Tijdens dit evenement kunnen foto's/video's gemaakt worden. Sta je liever niet op beeld? Stuur ons dan zeker een berichtje!)
//ENGLISH//
(This is a Dutch speaking event)
It's the time of the year again to dress up like something out of your worst nightmares! Come join us this evening to sing, drink and shiver.
[PRACTICAL]
When: Monday 31 October
Where: De Waaiberg
Doors: 7pm
Io Vivat: 7:30pm
HALLOWEEN DRESSCODE
!BRING YOUR OWN CUP!
(During this event pictures can be taken. Would you rather not stand on a picture? Please let us know!)