Deze evenement zijn geslaagd.
Survival of the Student
19 april, 2017 16:00

-

20:00

€10 – €16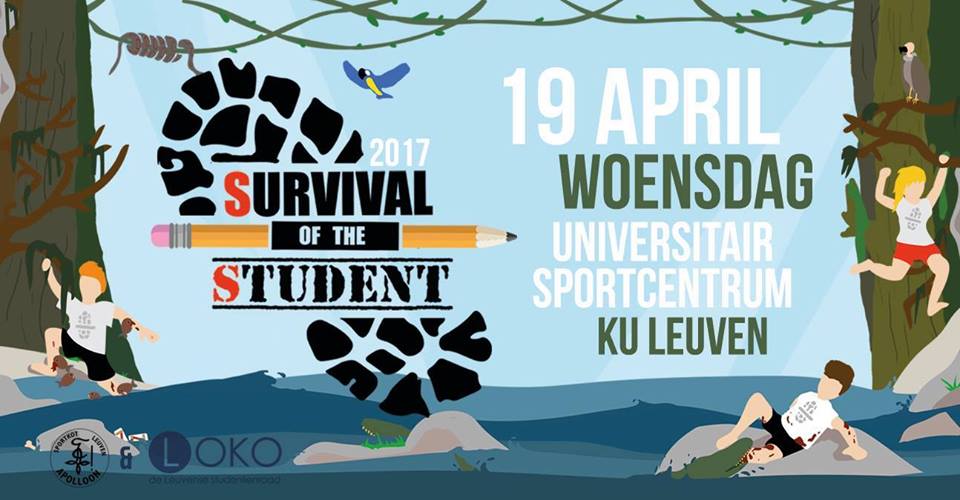 LOKO en Apolloon organiseren dit jaar de derde editie van Survival of the Student! Ook nu staan er weer verschillende hindernissen voor jullie klaar en wordt het Universitair Sportcentrum van de KU Leuven omgebouwd tot een heuse obstakelrun.
Praktische informatie:
Wanneer: woensdag 19 april 2017
Waar: Universitair Sportcentrum, Heverlee
Wat: parcours met nieuwe, uitdagende hindernissen
Wie mag meedoen: Dit is een evenement voor studenten, je moet hiervoor geen lid zijn van een studentenkring. Let wel op, er zijn 1500 plaatsen beschikbaar en de plaatsjes zijn gegeerd dus schrijf je tijdig in!
Kostprijs: 10 euro voor KU Leuven, UCLL en Luca Lemmens studenten - 16 euro voor andere studenten
This year the Survival of the Student, organized by LOKO and Apolloon, is back for the third edition! Yet again the University Sports Centre of the KU Leuven will be transformed into the only obstacle run in Leuven
Practical information:
When: Wednesday, April 19th, 2017
Where: University Sports Centre, Heverlee
What: obstacle run with new and challenging obstacles
Who: Every student can participate, but we only have 1500 spots so register in time!
Price: 10 euro for KU Leuven, UCLL and Luca Lemmens students, 16 euro for other students