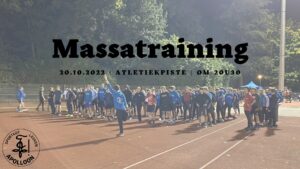 Binnen een week is de strijd gestreden en weten we wie zich trotse winnaar kan noemen van de 50ste 24 urenloop!!! Maar voor het zover is komen we nog 1 laatste keer ALLEMAAL samen om te trainen. Niet enkel onze toplopers worden verwacht, maar ook alle recreatieve lopers, supporters en sympathisanten! Kom allemaal in volledige Apolloon outfit zodat we de hele atletiekpiste blauw kunnen kleuren en zo VTK kunnen intimideren
#2deplaatsisookeenplaats
.
[PRAKTISH]
Wanneer: 20/10
Waar: Atletiekpiste @Sportkot
Tijd: 20u30
Dresscode: APOLLOON BLAUW
(Tijdens dit evenement kunnen foto's/video's gemaakt worden. Sta je liever niet op beeld? Stuur ons dan zeker een berichtje!)
//ENGLISH//
In less than a week the great battle is over and we will know who can call themselves the big winner of the 50ste edition of the 24 hourrun! Before we go to battle, we come together one last time to train. Not only our top runners are expected, but also our recreational runners, supporters and sympathizers! All dressed in full Apolloon outfits we hope to intimidate VTK once again
#2ndplaceisalsoaplace
.
[PRACTICAL]
When: 20 October
Where: Track and field course @Sportkot
Time: 8:30pm
Dresscode: APOLLOON BLUE
(During this event pictures can be taken. Would you rather not stand on a picture? Please let us know!)